Biography
Natural performer Patrick Lauwerends was born in Paramaribo Suriname and chose Rotterdam to be his home base in 1972. It was around 1980 that he decided to focus on his passion for music. As a result of this important career change he seriously began to develop his skills in playing the electric bass guitar and later on also the acoustic bass. Proving his incredible talents it was just 4 years later he started his professional career as a bass player. From 1989 the music scene became aware of the capabilities of Patrick Lauwerends as a Composer, Arranger, Music teacher and Workshop leader. Patrick Lauwerends plays a variety of Music Styles. Among them are: Kaseko, Caribbean music in general, Brazilian music, different kinds of Latin American music such as Salsa, Meringue and the crossover style of it such as Latin Jazz. Being the free spirit musician he is, he loves to play Da Funk, Reggae, Blues, Jazz and Rock Fusion.
"Blues is about life & Jazz is about jive"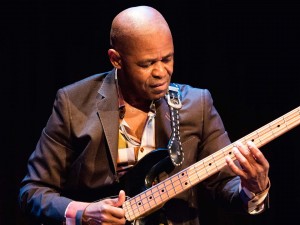 He performed on stage and recorded music with talented musicians such as Mr. B Soul Erwin Bouterse and many others. As a seasoned musician he was frequently asked to participate in tours abroad. As a result of that Patrick was engaged with several fine, talented musicians who invited him to participate in their national and international tours. He also had the opportunity to work with, at the time very popular, "Dutch Rhythm Steel & Show band". This big band made a reasonably successful 9 months tour through Germany, France and Switzerland. Moving his career to an even higher level, he toured in the USA with the well-known African band "Tulipa Negra". When Patrick was asked by drummer Guno Kramer for joining him on a sparkling Curaçao tour with "The G K Jazz-Rock Fusion Band" he just couldn't resist. By that time Patrick Lauwerends had become addicted of being on the road and flew to Indonesia, where he toured with the funk group "Enjoy" for 3 months.
However after working with several bands abroad, Patrick decided to take a well earned break and decided to officially study music.
During this evolving period of his life Patrick became friends with the great bass player James Long, who was very influential and later became not just his mentor but at some stage became his music father. It was James Long who taught Patrick to play the double bass and introduced him into the world of Jazz.
As a result of this introduction Patrick worked on a regular base with musicians such as the late Roy Campbell*†, Art Foxall*†, Mark Lewis, Zane Massey when they were on tour in the Netherlands. He also performed as a band member in musicals such as "A Night At The Cotton Club". This musical was about the famous Cotton Club in Harlem-New York and "Let's Talk About Sex"; a very popular comic production about a nutty professor who wants to talk about sex on a scientific level. In addition to all that Patrick collaborated in various television productions such as "Fellow Citizens". This was a Sesame Street like production, where musicians spoke about their music and their instrument. He also contributed to the music for the video film "Cuba As A Holiday Destination" by the Dutch Travel Coordinating Organization Department. Patrick participated in a television documentary in 4 parts under the title "The Life Of An Artist", concerning the life of artists with all its ups and downs by the Dutch based NCRV television.
As an organizer of musical events, Patrick organized weekly jazz sessions in the Odeon Rotterdam with such guests such as: Larry Wild Rice Swinging Chicago Blues Brothers, Thys van Leer, the late Rosa King*†, Archie Shepp, Sue Challenger, Wendell Morrison, Deborah Carter, Anna Montan, Adrienne West, Oscar Harris, Rob Agerbeek and many others.
"The groove that makes you move!!"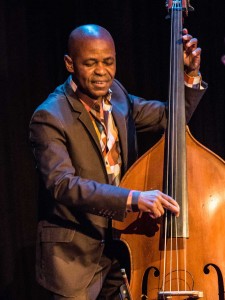 In 2001, Patrick had a tremendously successful tour in his homeland Paramaribo Suriname with the gospel group The Carmenians conducted by Stan Lokhin, followed by some successful workshops in the NAKS Cultural building organized by Lisibeti Promotions.
Patrick has not only performed in the well-known Caribbean pop band Trafassi but also recorded with these fine musicians. One does not exaggerate when one declares Patrick to be a gifted artist with a great passion for music. At the moment Patrick is conducting 3 bands he can call his own namely: Adyakasa Jazz, a 7 piece band with his own compositions in a crossover style of Kaseko and Jazz; Adyakasa Dance, a band with different line-ups playing Jazz standards with funky influences. Last but not least Patrick conducts the pop music Adyakasa B 2 B Accompany band for national and international artists. Adyakasa B 2 B consists out of some of the members of his former band The Patrick Lauwerends Dance & Show Orchestra.
Adyakasa is an expression used by Suriname Creole ladies as a warning. It's spoken slowly with a very low intonated voice which means 'Watch Out'. Adyakasa Jazz brings you a style of music originated in Suriname in which the traditionally elements are experimentally improvised on a world music level. It is Patrick's believe that it's all about having a good time and enjoying music. Patrick Lauwerends, bass player, band leader, composer and arranger of Adyakasa, lets your mind experience a spiritual and musical odyssey to several parts of this beautiful South American country. His beautifully arranged compositions really do give a reflection of his homeland.
As a teacher in the art of music, Patrick believes that passing on the love for music and encouraging youngsters to develop their talents and the creativity of their spirit are very important goals in life. Patrick believes that music education contributes to the entire well being of individuals. One of his quotes is: "Music Is A Carrier For The Creative Spirit, The Universal Language For All, That's Why We Have To Pass On Love For Music And Education"!
As he puts it so brilliantly: 'Music is The Food For Our Body & Soul! Personally I add to that that "Music Is His First Love And It Will Be His Last!"
This is only a fragment of his trackrecord! If you're in need of a full version please contact us!